To Abraham from
Suzanne Bernard

. Written in French.
Dear Mr B.
How are you getting on, and is Jack working? I am surprised that you have not replied to my last letter. How are you getting on in London? What are people saying about the war? Are you being attacked by Zeppelins? Whatever questions I ask you, it is not right to forget me.
Dear Mr B., I believe that I shall never be rational. I cannot forget the past and, despite myself, it keeps coming back into my mind. It is true that these are things which will never be blotted out from my memory. I was at home for 13 weeks, because I was quite ill with a heavy bout of influenza, and I leafed through my souvenirs. I reread the letters Bernard wrote to me both before and a long time after my marriage, such sincere letters. How things have changed and how wretched life is. Still, I shall once again chase away these black thoughts and try to forget.
Life here is still not cheerful for a worker. Mr Auguste has no work, and he will try to find something to do in Alfortville.1 My sister is also not working, so there is only me, and what I earn is no great shakes. Do you have any news from America about Lisa? Write me a long letter and tell me what people think about the war and when it will end (a greeting from my sister).
Affectionately
S. Bernard
To Abraham from Elise. Written in English
1015 Grote Street
New York
Loving Father
I am very anxious to know if anything has happened to you because I did not receive a reply to my letter. I would like to know how you are getting on in health and if you work. I shall have to wait anxiously for a reply.
With love and many kisses I am your daughter
Elisa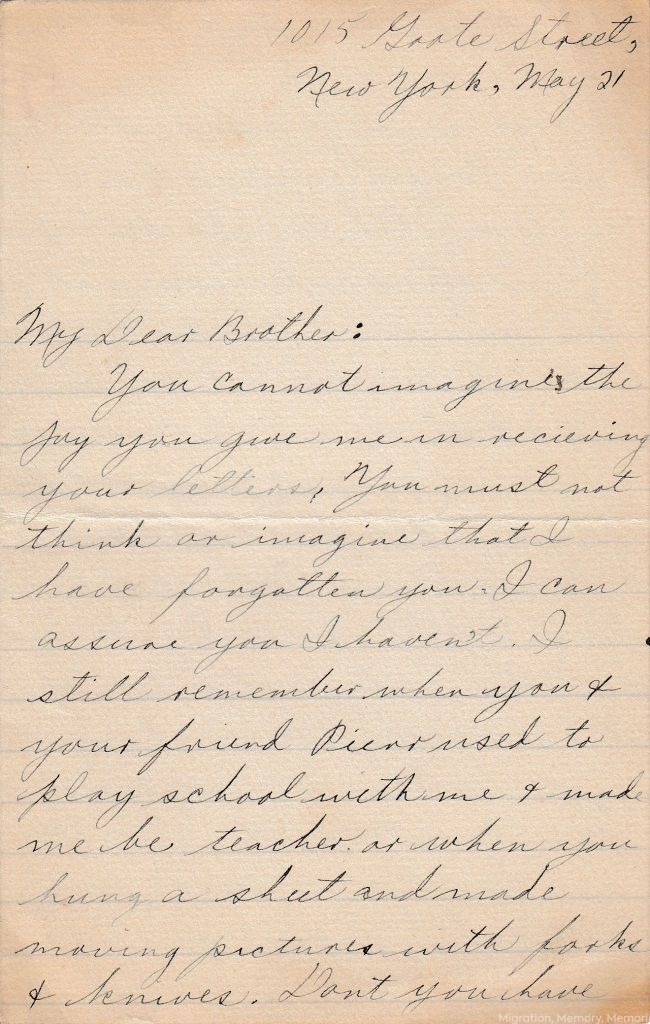 Dear Brother:
You cannot imagine the joy you give me in receiving your letters. You must not think or imagine that I have forgotten you. I can assure you I haven't. I still remember when you and your friend Pierre used to play school with me and made me be teacher or when you hung a sheet and made moving pictures with forks and knives.
Don't you have that opinion of me that I have forgotten you.
You asked me to tell you about America. I cannot tell you much about it. I like it very much and I don't find it very hot or very cold. I cannot contrast the weather between France and America as I don't remember it quite well. But to give you a better information I shall leave mother to do it. Louis has already started for his trip. He left May fourth to see the Panama exposition and he is going to make a cruise around the eastern coast. I hope you have received Louis letter and photo he sent you.
Dear Jacques, I see you don't claim his relationship. You consider him your friend and not your cousin. If he is my cousin he is also yours.
One thing that grieves me is that in every letter you send me you never say one word about yourself. Dear brother, wouldn't you like to come over to America to see how it is and judge for yourself?
With many kisses and love I am,
Your affectionate sister.
Elise
To Elise from Jacques. Written in English.
231 Cornwall Road,
Notting Hill, W .
London
My dear sister,
I was very pleased to get your letter and guess you are alright, although you don't speak much about yourself. It gives me pleasure to read you have not forgotten me. Remembrance is the only bond between us now. Perhaps one day we shall meet each other again. We shall then be so different from each other so different in ideas, in opinions, that, maybe, there will be nothing between us, as sister and brother, but the distant remembrance that once, long, long time back, we were playing happily together, loving one another without knowing what the morrow would be.
And perhaps, if we meet, we shall be troubled, disappointed, in finding that we have both grown up and that there is nothing similar to the two little children of past times, nothing similar, not even the name.
That is why arbitrary separation, whatever be its causes is always a moral wrong.